Access Information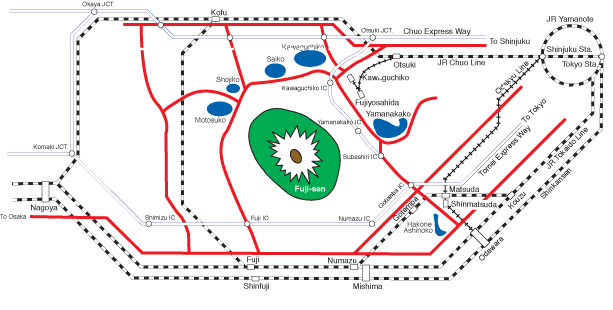 You will arrive at Yamanakako.Please call us.
We will meet your bus , Yamanakako anywhere.
And we see you to the bus stop. Free pick up service.
Pension Mont et Lac
2552 Hirano Yamanaka-ko Minamitsuru, Yamanashi, Japan, 401-0502
Phone 0555-62-4418
email fuji@mountfuji.jp
 Google Maps
From Shinjuku to Yamanakako by Highway bus
It is convenient to access to Yamanakako Mont et Lac from Shinjuku.
1.Where to get on the bus to Yamanakako?
JR Shinjuku station. Please get at Shinjuku Expressway Bus Terminal / Busta Shinjuku
2.Fares and Timetable
One-way ticket adult :2050 yen
Fuji-Goko(Five Lakes)/Fuji Subaru Line 5th Station <=> Shinjuku Line
3.How to reserve the seat ?
We recommend to reserve the seat.Because Expressway bus to Yamanakako (Kawaguchiko) are very crowded.
4. Required time
About 2h 10min.(we will not stop for a bathroom during the trip. Please keep in mind.)
From Shinjuku to Yamanakako by Train
From JR Shinjuku (Chuo Line) to JR Otsuki
Change the train for Kawaguchiko by Fijikyu
Get off at Fujisan station and change to bus for Gotemba station
Get off at bus stop Fujisan Yamanakako (Hotel Mount Fuji)
From Kansai region by Shinkansen and local train
Get off at the Shinkansen Mishima station and change the bus for Kawaguchiko by Fujikyu Bus
Kawaguchiko <=> Mishima line (Mishima/Kawaguchiko Liner Express Bus)
Get off at the bus stop Fujisan Yamanakako (Hotel Mount Fuji)